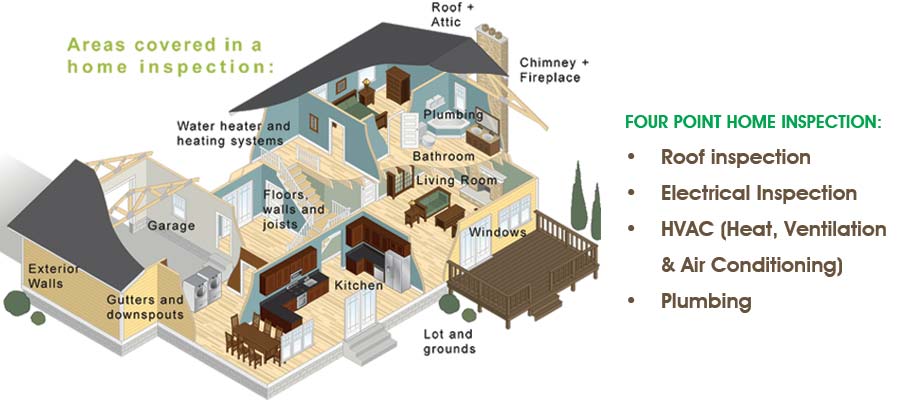 Four Point Home Inspection in West Palm Beach, FL
The Four Point Home Inspection was created after Hurricane Andrew struck Florida in 1992. This inspection is performed on behalf of the insurance companies and, typically, a requirement to secure insurance on your home. The Four Point Insurance Inspection benefits both the insurance company and the insurer. After the numerous back-to-back hurricanes in Florida, the Four Point Insurance Home Inspection has taken on added importance. Insurance companies reduce loss risk on homeowner insurance policies by having Four Point Home Inspections.
In 2002, the Florida Legislature passed a law that combined the Florida Residential Property and Casualty Joint Underwriting Association (FRPCJUA) and the Florida Windstorm Underwriting Association (FWUA). This resulted in the creation of Citizens Property Insurance Corporation (Citizens), which more efficiently and effectively provides insurance to, and serves the needs of, homeowners in high-risk areas and others who cannot find coverage in the open, private insurance market. By law Citizens insurance must be the most expensive insurance policy on the market. It is funded by premiums paid by the insured and from other insurance companies paying into the program to reduce their overall losses.
While the Four Point Insurance Inspection was started by Citizens, they have quickly spread to most, if not all of the insurance companies that provide coverage in Florida. Several insurance agencies throughout Florida have been recommending the 4 point inspection for some time now.
The Four Point Insurance Inspection examines these four components of your property:
Roof
Electrical
HVAC (Heat, Ventilation & Air Conditioning)
Plumbing
The Four Point Insurance Inspection program is gaining in popularity and will likely continue to expand as insurance companies recognize the value of the inspection and the savings benefits it provides to the insurance carrier.
Call us today to conduct a Four Point inspection on your home to help you qualify for any insurance discounts. Let the experienced, trusted home inspection professionals at South Florida's Best Home Inspection, Inc. help you with all your home inspection needs.
Call (561) 478-4050 to schedule your inspection. We serve West Pam Beach, Boca Raton, Jupiter, Wellington and the surrounding areas.